Kyma 7 requires Windows 10, Windows 8.1, Windows 8, Windows 7 (SP1), Windows Vista (SP2), or Windows XP (SP3), and approximately 1.7 gigabytes of storage. Internet access is required to download the Kyma Sound Library and its supporting files and to access the support areas of this website. We recommend that you install Kyma on a computer that has at least 1 gigabyte of memory.
Before installing Kyma, please use Windows Update to make sure that whichever version of the operating system you are using, it is up to date.
1. Double-click Install-Kyma-7.exe to start the Kyma 7 installer. If you just downloaded Kyma, you can find this file in your browser's downloads folder. Click Next to continue. (Windows Defender SmartScreen may display a message about protecting your PC; if this happens, click More info, verify that the publisher is listed as Symbolic Sound Corporation, and, if it is, click Run anyway.)
2. Choose where to install the Kyma application. The installer suggests the Program Files folder, but you can put Kyma anywhere on your computer's storage device. Click Next to continue.
3. Choose where to place the Kyma 7 shortcut. The default location is in a new Start menu folder called Symbolic Sound. Click Next to continue.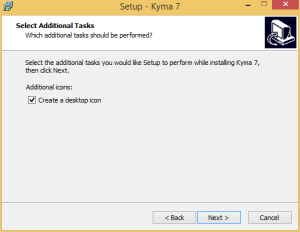 4. Choose whether the installer should also place a Kyma 7 shortcut on the desktop. Click Next to continue.
5. The installer will ask you to verify your choices. Click Install to install Kyma 7.
6. After the files are installed, the installer will automatically transfer to the driver installer. Click Next to continue.
7. After the drivers have been installed, the installation process is complete. Click Finish to exit the installer.
Next, continue to step 2 in the column on the right: Connect Para(rana).