Kyma 7+ requires Windows 10 or newer and approximately 8GB of storage. Internet access is required to download the Kyma Sound Library and its supporting files and to access the support areas of this website. We recommend that you install Kyma on a computer that has at least 4GB of memory.
Before installing Kyma, please use Windows Update to make sure that your operating system is up to date.
If you have not downloaded the installer yet, please download the Kyma installer now. Once you have downloaded the installer, then:
1. Double-click Install-Kyma-7+.exe to start the Kyma 7 installer (you can find this file in the Downloads folder). User Account Control will ask if you want to allow Kyma 7+ Setup to make changes to your device; verify that the publisher is Symbolic Sound Corporation, and, if it is, click Yes.)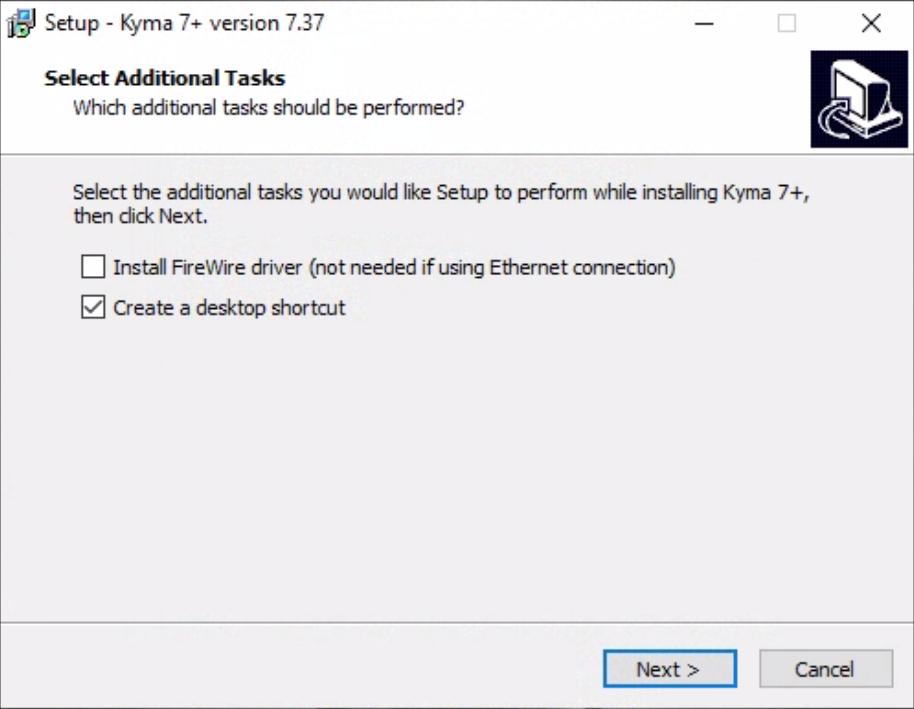 2. Choose whether the installer should place a Kyma 7+ shortcut on the desktop. (You will be using Ethernet so the option to install the FireWire driver does not apply here.) Click Next to continue.
3. Click Install to verify your choices and install Kyma 7+.
4. After the files have been copied, the installer will notify you that the installation process is complete. Click Finish to exit the installer.
Continue to Start for the first time.